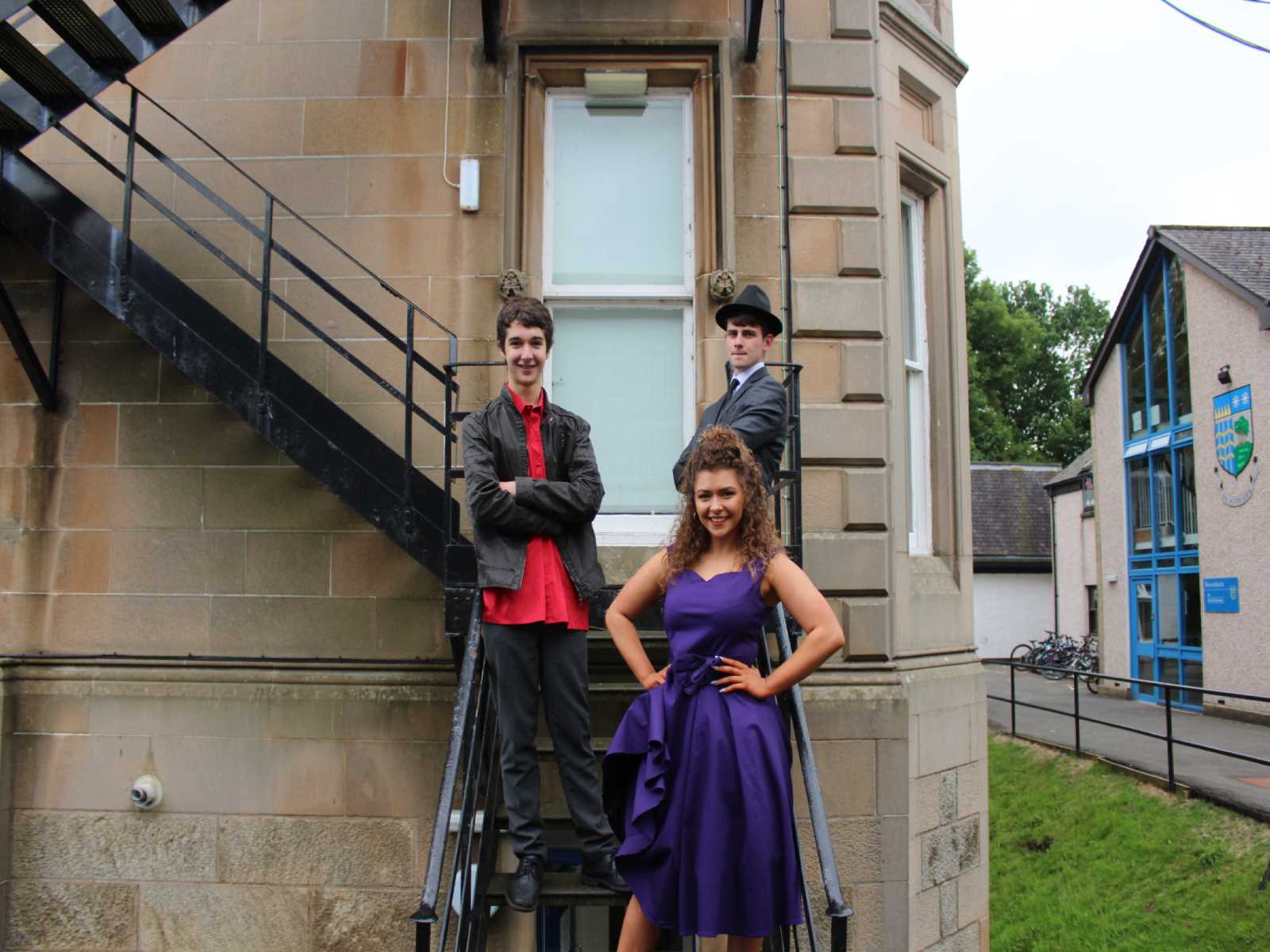 Talented pupils from Beaconhurst School are getting ready to perform their summer musical West Side Story at Stirling's Macrobert Arts Centre.
The show – a modern-day love story inspired by Shakespeare's Romeo and Juliet – takes place on Tuesday June 26 and Wednesday June 27.
Pupils from S4-S6 star in the iconic musical which is set in the Upper West Side streets of New York during the mid-1950s as two gangs – the Jets and the Sharks – battle for control.
The situation gets complicated when Tony, co-founder of the Jets, falls in love with Maria – the sister of the rival Puerto Rican gang's leader Bernardo.
Rachel Hoskins stars as Maria in the show while Jamie Blackhurst plays Tony.
Rachel, 18, had the lead role of Miranda in last year's musical Return to The Forbidden Planet and starred as Pink Lady Jan in the school's 2016 production of Grease.
She said:
"Playing Maria is the most challenging role I've had so far as she's quite different in character to me.

"She's very fun and laidback and it's a good singing role. I'm delighted to be cast as Maria and enjoying the rehearsals."
Jack McLay, 16, stars as Sharks leader Bernardo – his first lead role – and has been watching Hispanic comedians on television in a bid to perfect his Spanish accent.
He said:
"I thought I should step up to a main role this year after being in the chorus last year.

"I auditioned for Bernardo, so I was really pleased to win that role although I'm quite nervous about the singing.

"Bernardo's character is the total opposite of me – he's an alpha male and very tough which I'm not so I've been trying to think about his motivation, which is really to survive, to get into character."
Katie Laird plays Bernardo's girlfriend Anita, Maria's best friend, in the show.
Katie, 17, said:
"Anita is a really fun role – she's very confident and feisty and I like that I get to play a sexy character which I've not done in my previous roles.

"There's a lot of energy and drama in the musical and we're getting better and better each time we practise.

"There's a good atmosphere during the rehearsals and the costumes we get to wear from the era are great – I think it's going to be a brilliant production."
Other lead roles in West Side Story are played by Gregor Rodger as Riff the Leader of The Jets, Robert Johnston as corrupt police officer Lieutenant Schrank and Jonathan Ackroyd as his sidekick Officer Krupke.
Meanwhile, one of the school's Maths teachers Amanda Tranmer has a cameo role featuring a dance sequence.
The cast has been rehearsing weekly since January before moving to daily practices during the school's Expressive Arts Week followed by a dress rehearsal.
The show is produced by Beaconhurst's Director of Expressive Arts Alison Marshall with help from Musical Director Maxine Birchall, Assistant Musical Director Louise Farquhar and Stage Manager Lesley Davidson.
All pupils from S4-S6 take part in the annual show with those not featuring in the main cast or chorus taking on backstage production or costume making roles or working as part of a media team to promote the event.
Ms Marshall said:
"We've got a really enthusiastic cast who have been fantastic.

"There is a lot of drama and some great songs in the show and the boys love the fact they are in gangs and get to enact and spar on stage.

"We've got a 20-strong orchestra of professional musicians performing with us at the Macrobert which is very exciting and we hope lots of people will come along and enjoy the evening."
Published by Blackburn Communications on June 14, 2018.
Featured in Families Magazine Central Scotland , the Falkirk Herald, the Stirling Observer and What's On Stirling.