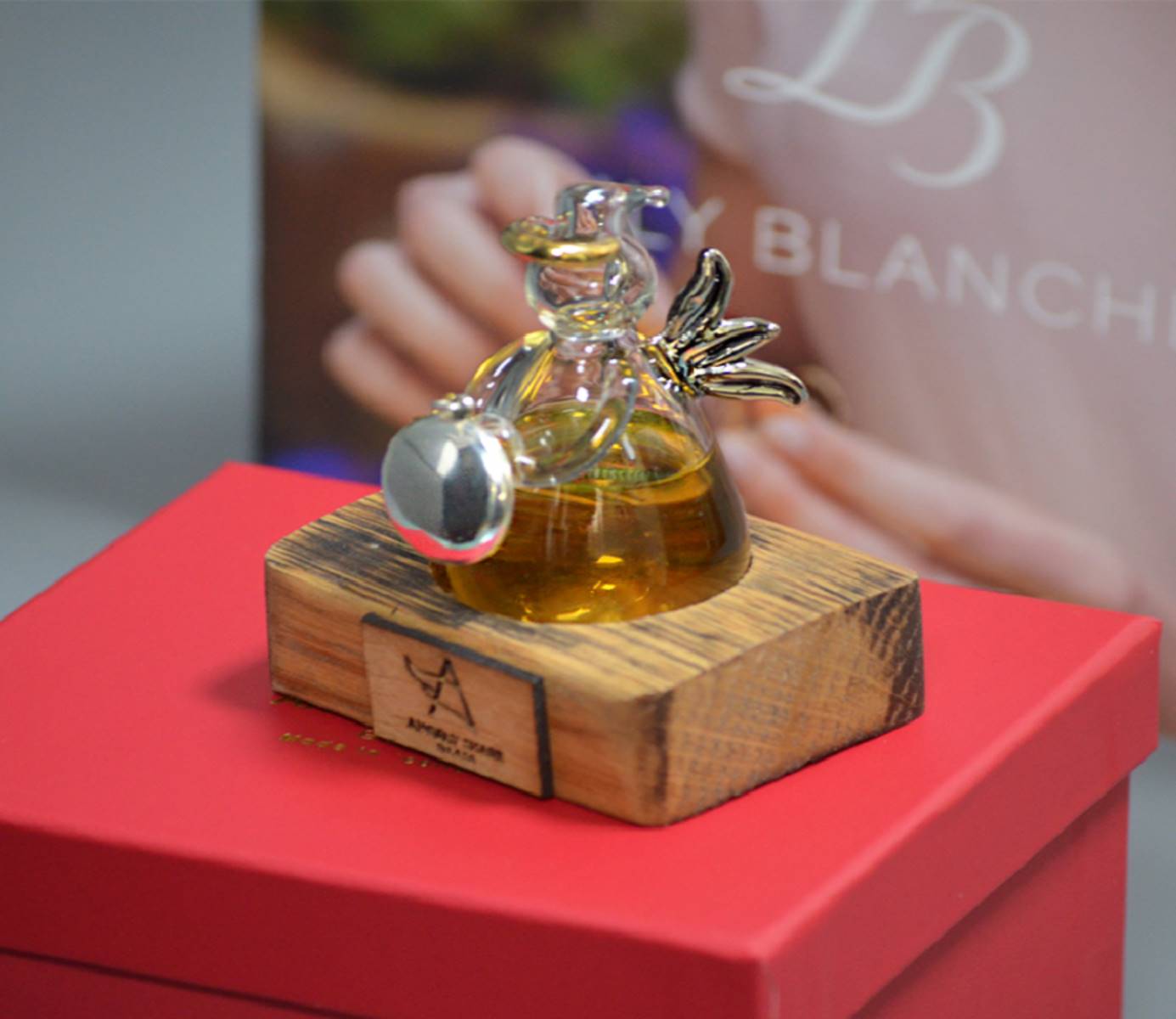 A glass angel holding a silver locket and filled with rare whisky from a `lost distillery' is the latest innovation from Stirling firm Angels' Share Glass.
The talented glassmakers have joined forces with Stirling jewellers Lily Blanche to create a batch of just 25 limited-edition Littlemill Angels.
The Angels are hand-filled with 26-year-old Littlemill Whisky and feature a silver locket decorated with a single golden feather. The lockets can also be personalised by adding a photograph inside.
Angels' Share Glass Managing Director Karen Somerville said:
"With our limited-edition angels, we always select a whisky which is rare and no longer widely available.
"Littlemill Distillery closed many years ago and is now what's known as a `lost distillery'. We were lucky to source its whisky for the Angels as only 234 bottles were ever released.
"The distillery now exists only in memories and photographs and it was that notion which sparked the idea for an Angel holding a locket since they are also very much linked to memories and photographs.
"There's a real synergy there and we also used a feather on the locket design to reflect the popular saying `When feathers appear, Angels are near' which seemed very apt."
Mrs Somerville commissioned Gillian Crawford, managing director of Lily Blanche, to create the Angel's locket.
Both women are Ambassadors with Women's Enterprise Scotland (WES) and leading figures in the Scottish business world.
Ms Crawford said:
"We loved collaborating with Karen and the team at Angels' Share Glass on this limited-edition Angel.
"We share the same values of craftsmanship, love of Scotland's heritage and traditions and attention to detail as our friends at Angels' Share Glass, so we were delighted when they commissioned us to make the lockets for this special Angel.
"The finished product is stunning and we are really pleased with it."
The Littlemill Angel costs £225 and only 25 are available – each with a batch number inside the locket.
They are around 70mm in height with wings made of platinum and a halo made of gold and are placed on an oak stand.
Each one is filled with 25ml of Littlemill whisky which represents the `Angels' Share' – the measure of whisky lost to evaporation during the maturing process which, according to distillers' legend, is taken away by angels.
They also come complete with a Lily Blanche silver locket which can be personalised with images.
For more details and to order the limited-edition Littlemill Angel, go to www.angelsshareglass.com/collections/angels/products/new-limited-edition-littlemill-angel
For more information about Angels Share Glass, visit www.angelsshareglass.com
For more information about Lily Blanche, visit www.lilyblanche.com
Published by Blackburn Communications on April 16, 2020.
As featured in What's On Stirling and Whisky Intelligence.