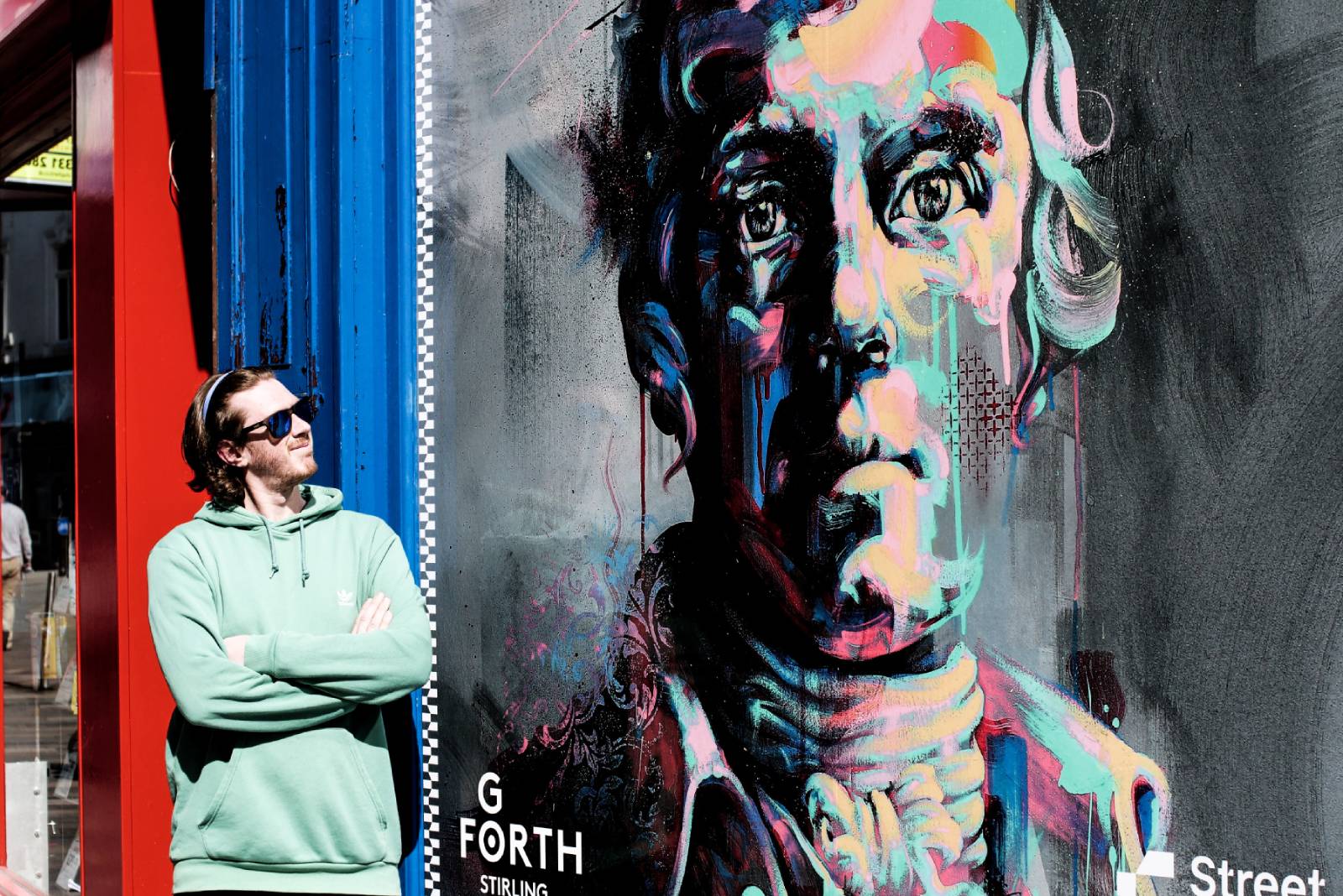 Stirling's empty shop windows have been transformed into vibrant works of art thanks to an ambitious project launched by the city's BID.
The Street Stories initiative features a range of animated artworks on eight shop windows, including the former BHS and Argos stores, in a move aimed at revitalising the city as it prepares to welcome shoppers back next week.
The ground-breaking project, organised by the team at Go Forth Stirling Business Improvement District (BID), showcases the work of a range of Scottish artists including Jacqueline Marr, Michael Corr and David Galletly.
Each artwork is brought to life via interactive Augmented Reality (AR) and forms part of a Trail telling the stories of Stirling's people, heritage and history via mediums such as mosaic, dance, mural, digital and fluid art.
Go Forth Stirling Project Director Danielle McRorie-Smith said:
"I'm thrilled to see Street Stories bringing the streets of Stirling to life as our shops and hospitality premises get ready to welcome customers back.

"The project is all about making the city centre more visually appealing by featuring bright and vibrant windows rather than empty shopfronts and giving some points of interest through the hidden stories behind each artwork.

"It's been great to watch people stop to look at the artworks and read about the ideas and stories they represent.

"As Covid restrictions are lifted, hopefully more Stirling residents and visitors will have the opportunity to enjoy Street Stories and discover what talented artists we have in the area."
Eight artists were selected for the project following an open invitation to submit art celebrating Stirling which could be brought to life via interactive Augmented Reality (AR) – multi-sensory animation triggered by a free downloadable smartphone app.
One of those chosen was mosaic artist Rachel Davies whose work, exploring Scottish slate and stone, is featured on the windows of the former Calvary Fellowship in Stirling Arcade and tells the story of the building of Stirling Castle.
She said:
"I'm thrilled to be a part of this project and to see my artwork larger than life on the city streets. I really enjoyed going round the trail and viewing the animations and hope others will find it fun too."
Fluid artist Roisin McKenzie is delighted to see her paintings of the River Forth animated on the windows of BHS in Murray Place.
She said:
"'I'm incredibly proud and honoured to have my work featured in this exciting and innovative project which is a great way to highlight the area's artists.

"I was blown away by how huge and amazing my pieces looked on the windows. To see my artwork on that scale is incredible and the animation team have done such a great job.

"I've had lots of positive feedback so far regarding Street Stories and how great all the windows look and a friend overheard a group saying what a difference it's made already to Stirling which is fantastic."
Go Forth Stirling worked on the project with design agency Arch Creative and Scene Stirling – a collaborative partnership promoting arts and culture locally.
Joe Nixon, Creative Director at Arch Creative, said:
"We have been able to give a platform to some of Stirling's incredible artists and showcase their work in a completely different form.

"We've transformed these units into living pieces of art and created a trail for visitors to follow around the city centre. The animations triggered by the free downloadable app will give visitors an insight into Stirling's rich heritage and showcase the artists' work in a way that hasn't been seen before."
Kevin Harrison, Manager of Scene Stirling, said:
"The trail is a fantastic way to showcase Stirling's talent in a fun, interactive way; as well as entertaining locals and visitors to the city, we hope this innovative project will inspire the young creatives of the future."
Stirling's BID was set up in September 2017 following a vote and currently represents more than 600 local businesses with a key objective of delivering projects and services which improve the area's trading environment to benefit businesses, shoppers and visitors.
For more information visit www.goforthstirling.co.uk
Published by Blackburn Communications on April 19, 2021.
As featured in The National, Scottish Business News, Alloa Advertiser, Brig Newspaper and What's on Stirling.