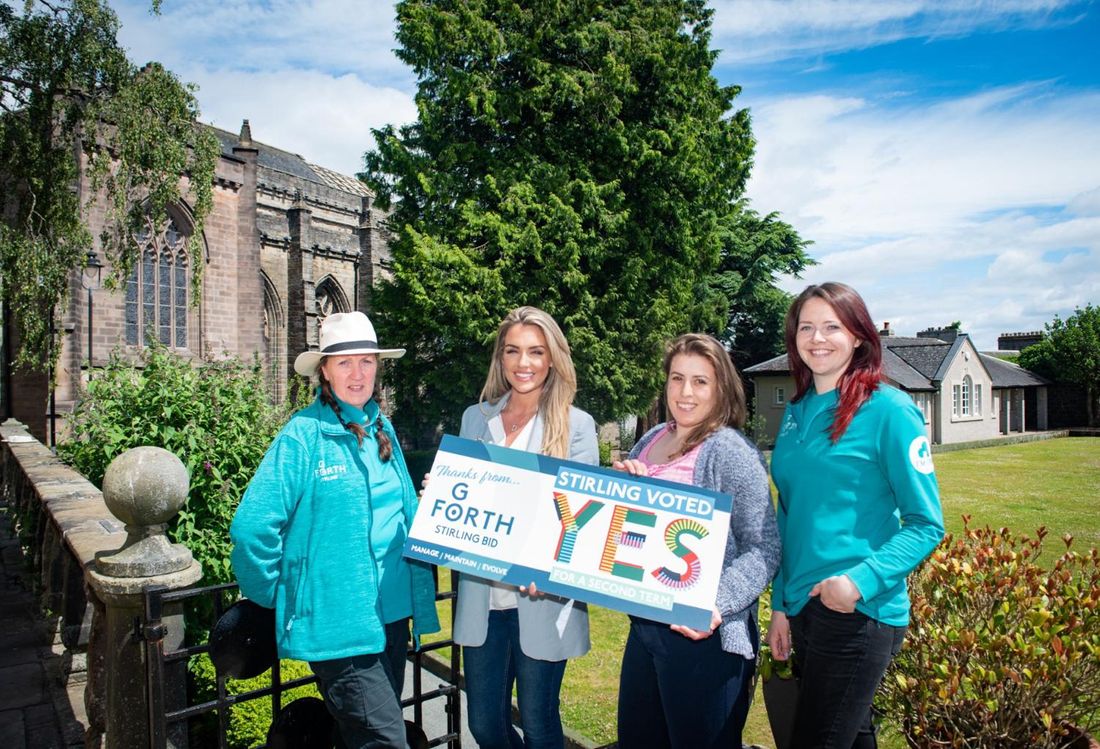 Stirling's business owners have given a resounding 'Yes' to a second term for the city's Business Improvement District (BID).
The decision means the Go Forth Stirling team will continue their work to improve the city's trading environment by investing £1.8M over the five-year period beginning September 1.
Every business which pays a BID levy had the opportunity to vote in the ballot and a massive 79% by number and 78% by rateable value voted in favour of a second term.
This is a huge increase in confidence for the BID compared to the last ballot in 2017 where the result was 58% in favour.
Danielle McRorie-Smith, Project Director at Go Forth Stirling, is delighted with the overwhelming endorsement given to the non-for-profit company.
"We are thrilled that our traders have voted so overwhelmingly in favour of the BID – today's result is a resounding success for Go Forth and fantastic news for the city of Stirling.
"It highlights the confidence the business community has in the BID and its work over the past five years and the appetite to see us continue to build on our achievements and ambitions.
"We'd like to thank the city's business owners for their continued confidence in Go Forth.
"We now look forward to delivering the initiatives set out in our five-year plan to raise Stirling's profile and create a cleaner, safer and more vibrant environment.
"We will ensure Stirling remains a welcoming destination for businesses, visitors and shoppers alike."
Go Forth Chairman David Black said:
"We are delighted with the strength of support shown by the result of this ballot.

"Businesses of all sizes have confirmed their confidence in Go Forth Stirling BID and delivered us a strong remit to push ahead with our ambitious plans for the next five years.

"We look forward to continuing to work with, support and promote businesses in Stirling."
A Business Improvement District (BID) is a business-led partnership which works to improve a defined commercial area by delivering services and initiatives.
They are required to hold a ballot at least every five years to ensure they still
have the support of the businesses who pay into them.
Without the ballot and the strong show of support received, Go Forth would have ceased to exist on August 31 this year.
Stirling's BID, which launched in September 2017, is one of 37 active Scottish BIDs and one of 333 across the UK as a whole.
Each BID works to enhance their city's high street experience delivering projects specific to their business community's needs.
In Stirling, the Go Forth team represents more than 600 business owners and the BID zone covers Stirling city centre and its surrounding streets taking in the area from Burghmuir Retail Park to the Top of the Town and out to Forthside.
Business owners with a rateable value over £10,000 pay an annual levy fee related to the size of their premises and the BID can access matched funding and grant schemes to support its projects and services.
Go Forth will now focus on its ambitious five-year plan which was drawn up following consultation with local businesses.
Key proposals for the second term include better street cleaning, ongoing free public Wi-Fi in the city centre and the continuation of popular grant schemes.
There are also plans for new events including an enhanced winter festival and the introduction of annual business awards.
Other topics high on the agenda include tackling parking concerns, introducing improved wayfinding and signposting around the city and addressing the number of vacant properties.
For more information visit www.goforthstirling.co.uk
Published by Blackburn Communications on July 8, 2022.
As featured in Daily Business, Scottish Business News, Stirling Observer and What's on Stirling.